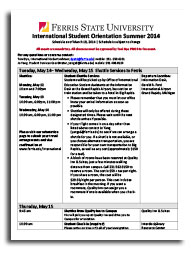 Fall 2017
International
Student Orientation
Begins August 22, 2017
Welcome! Ferris State University is recognized as a leader in career-oriented education and is home to more than 170 programs including associate, bachelor's,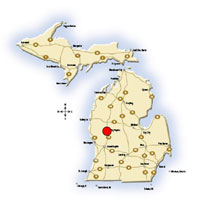 master's, and doctoral degrees.
Our students benefit from small class sizes, nurturing classroom settings, hands-on training in our laboratories, faculty actively dedicated to the success of our students, a safe campus environment, comfortable residence halls, and even family housing at Ferris.
Our main campus is located in Big Rapids, Michigan – a naturally beautiful area of the state. The Big Rapids campus is 50 miles north of Grand Rapids, Michigan's second largest city. Ferris is just a four-hour drive from Chicago and only three hours from Detroit.
Among the programs of the Office of International Education are international student admissions, the West Michigan English Language Institute, and Study Abroad.