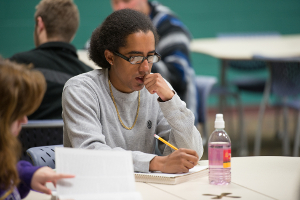 The Writing Center is a free tutoring service for all of the students at Ferris State University. Our mission is to offer assistance with all aspects of the writing process, from preliminary brainstorming and outlining, to revising and polishing final drafts. We also provide guidance on business letters, applications, and resumes as well as mechanical issues, such as spelling, grammar, and sentence structure.
Located in ASC 1017, the Writing Center provides in-person, on-site tutoring with student tutors and paraprofessionals, many of whom hold graduate degrees. On-line we offer e-mail tutoring. In addition, this website contains information about the Center, worksheets, and practice tutorials.
Faculty are encouraged to schedule classroom workshops on a range of topics, including an introduction to our services, resume workshops, methods of documentation, avoiding plagiarism, and much more!
Use the menu to the left to navigate the Writing Center website.
Writing Center Contact Information:
Director: Dr. David Marquard
ASC 1017
Phone/email: (231) 591-2534/writecen@ferris.edu