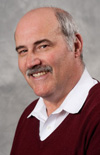 Richard Goosen
Professor
Product Design Engineering Technology
Office Phone: (231) 591-2635
Email: RichardGoosen@ferris.edu
Goosen has been a professor at Ferris since 1993 and has served as coordinator of two CET programs since 2009. As a professor, he teaches courses in Engineering Technology related to Engineering Science and Mechanical Design. He earned a Bachelor of Science in General engineering in 1974 from the U.S. Military Academy at West Point, N.Y., Bachelor of Science in Electrical Engineering from Kansas State University in 1978, Master of Science in Electrical Engineering from Ohio University in 1985 and was awarded a Ph.D. in Educational Leadership from Western Michigan University in 2009. Goosen, was named Ferris State University's Distinguished Teacher Award winner in spring 2010.

Jim Rumpf
Professor
Manufacturing
Office Phone: (231) 591-3591
Email: JamesRumpf@ferris.edu
Rumpf's field of expertise includes manufacturing engineering, lean manufacturing, green manufacturing, automation, industrial engineering and computer applications.

Khagendra Thapa
Program Coordinator, Professor
Surveying Engineering
Office Phone: (231) 591-2672
E-mail: KhagendraThapa@ferris.edu
Dr. Thapa's field of expertise includes Geodesy, Surveying, GPS, GIS and Accreditation (especially ABET Accreditation). He is also a Commissioner of ABET. He was elected to serve as president of Ferris State University's Academic Senate during the 2013-14 academic year.