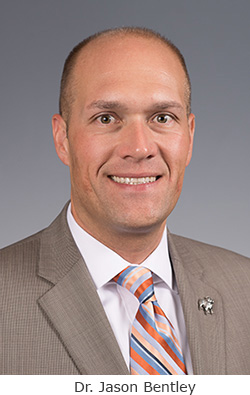 Dr. Jason Bentley, Dean of RSS
JasonBentley@ferris.edu
Nina Davis, Administrative Assistant
NinaDavis@ferris.edu
Danette Mondrella, Secretary Level 2
DanetteMondrella@ferris.edu
Welcome!
Whether you are just beginning your collegiate experience or continuing your studies, I am excited you chose Retention and Student Success as your first college at Ferris State University.
Retention and Student Success is Ferris's multidisciplinary college. It's the college where you find unmatched support as you pursue your passions; it's the college where the best engineers, teachers, pharmacists, entrepreneurs, chemists, and leaders begin and continue their studies.
Throughout your Ferris State University experiences, you will explore ideas, affirm the value of differences in pursuit of greater understanding, and confirm your passion for one of the 190 available degree programs. You'll meet others excited to explore the more than 200 student organizations, debate ideas, and create opportunities to further improve the communities in which we live and work.
This website introduces you to the many ways you can explore and discover at Ferris State University. Through involvement with outstanding faculty and staff, participation in tutoring and structured learning experiences, and use of tuition assistance made possible through our many scholarships and grants, there is no better place to create your future.
Be Brilliant!
Jason M. Bentley
Dean
Scholarship Opportunities and Awards
Ferris State University is committed to raising funds to provide resources for scholarships and programs that assist our students in reaching their full potential. Scholarships reward students and provide financial support to students in need.
By working with a Ferris State University Advancement Officer, individuals and organizations can define the criteria for a scholarship or fund in such a way that meets the needs of its students. For information on how to apply for a scholarship, please contact Danette Mondrella at 231-591-2428 or at DanetteMondrella@ferris.edu.
The following list includes the current scholarships available through our office. More than $90,000 in scholarships were awarded by our office for the 2016-2017 academic year. To be eligible for the following scholarships students must begin their studies in Developmental Programs (CARE, GNST and DIST) and achieve B grades or better for the year they are with us. Click on the links below to see this year's scholarship recipients.
Current Campus Initiatives led by RSS