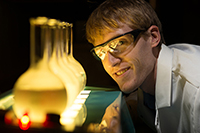 Ferris, Robertson Research Institute Collaborate on Innovative Research

Ferris and the Robertson Research Institute have announced a new collaboration designed to develop applications of precision medicine in healthcare practices.  more... 
Disability Awareness Month Events Offer Speakers, Sport and Support

Disability Awareness Month activities will begin Monday, Oct. 5 with a resource fair in the Williams Auditorium lobby from 3 to 5 p.m., according to Educational Counselor Julie Alexander. more...
News Headlines
» This Week at Ferris (Sept. 28-Oct. 3)
» Ferris First (#FERR1S) Bulldog Football Student-Athlete Shakur Sanders
» National Hazing Prevention Week Activities Hosted at Ferris
» Mehlers to Judge Koppelman Award; Caryn First Undergraduate Judge
» University Center Receives LEED Gold from U.S. Green Building Council
» Ferris First (#FERR1S) Bulldog Football Student-Athlete Shakur Sanders
» Latin@ Heritage Celebration Offers Cultural Insight, Social Opportunity
» Fridays are Ferris Pride Days, University Involvement Encouraged
» Read More Ferris State University News Headlines