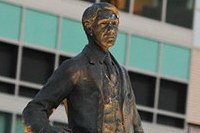 A Letter to Students from the Dean of Student Life, Leroy Wright

Dean of Student Life Leroy Wright presents his annual letter to new and returning students as the start of the 2014-15 academic year approaches. Dean Wright offers 12 keys to success. more...
Bulldog Beginnings Events Welcome Students Back to Campus for 2014-15

Bulldog Beginnings is set to kick off as students begin returning to campus in preparation for the first day of classes on Monday, Aug. 25. more...
News Headlines
» Meijer Madness Event Helps Kick Off the Fall 2014 Semester
» Alumni Association Awards $24,000 in Legacy Scholarships
» Faculty Picked to Lecture at American Academy of Optometry Meeting
» Meet the Interns: Chloe Tooson
» Bob and Carla Miller's Gift makes them Playmakers in Hockey's Future
» Alumna Yunker Appointed IPFW's First Woman Chief of Police
» Read More Ferris State University News Headlines