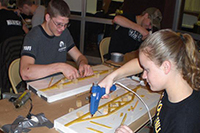 The 15th Annual Spaghetti Bridge Competition Set to Begin March 22

The 15th annual Spaghetti Bridge Competition on Saturday, March 22 from 12:30 to 5 p.m. and Sunday, March 23 from 11 a.m. to 2 p.m. in the Granger Center for Construction and HVACR Atrium. more...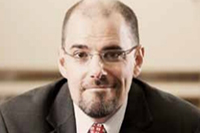 #FerrisSocial Conversation: Scott Garrison, Dean of FLITE Library

Scott Garrison has been a part of Ferris State University since 2012, when he was hired as dean of the Ferris Library for Information, Technology and Education. more...
News Headlines
» This Week at Ferris (March 1): Women's History Month Activities
» Arts and Sciences Instructor Talks SowHope for Women's History Month
» Multicultural Exchange Presents Events for Students to Engage and Learn
» Alumna Linda Ward Appointed to State's Board of Cosmetology
» Snyder Names Alums to Indiana-Michigan Boundary Line Commission
» Students Can Assist Homecoming Planning, Gain Valuable Experiences
» Read More Ferris State University News Headlines