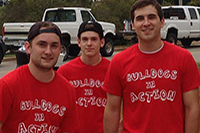 Bulldogs in Action Seeks Volunteers for the Fall 2015 Semester

Sponsored by the Office of Housing and Residence Life, Bulldogs in Action is a group of current and returning students who help new Ferris students move into campus residence halls on Friday, Aug. 28. more...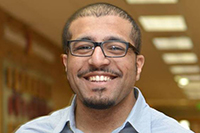 The #Ferr1s Video Series Features the Recently Graduated Fayez AlSalem

Recent graduate Fayez AlSalem could not be more proud to say that he is now an alumnus of Ferris State University. Check out this #Ferr1s video to learn more about why he chose Ferris. more... 

News Headlines
» Football Players Speak out Against Sexual Assault in 'No More' PSA
» Ferris First (#Ferr1s): Zachary Grabovic
» Meet the Interns: Mari Ann Loucks
» DeShone Cherishes Ferris Time, Uses it as Gateway to Future Successes
» Student Earns Award from Michigan Department of Education
» Nuclear Medicine Tech. Student Explains Why Ferris was her No. 1
» Richard L. Rought Surveying Scholarship Now Endowed
» Read More Ferris State University News Headlines