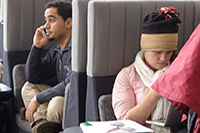 Ferris to Host Official University Center Grand Opening Event, Feb. 19

Ferris will be hosting a grand-opening for the newly-renovated University Center on Thursday, Feb. 19 from 11 a.m. to 2 p.m. more...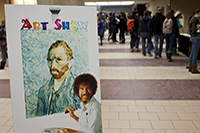 Honors Program Students to Showcase Artistic Skills Set for Jan. 30

The Honors Program students will feature their artwork at the Honors Art Show on Friday, Jan. 30 from 6 to 9 p.m. in the University Center, Room 202C. more...

News Headlines
» This Week at Ferris (Jan. 26-30)
» 'Family Feud' has a Ferris Version, 'Ferris Feud'
» Ferris First (#Ferr1s): Mikaela Mason

» Students Encouraged to Audition for the 2015 'Ferris Has Talent' Event
» University Seeks Nominations for 2015 Academic Affairs Awards
» Ferris and BR Collaborate to Kick off 2015 Festival of the Arts Celebration
» University and Dial-A-Ride Announce Plans to Continue Shuttle Service
» DisArt Festival to be Held in April 2015 in Grand Rapids
» Read More Ferris State University News Headlines