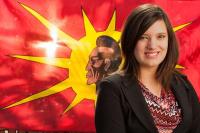 Ferris Student Awarded Fulbright Scholarship to Teach in South Korea
Ferris State University graduating senior Danielle Voorhies has been awarded a Fulbright Scholarship to teach English in South Korea. Voorhies, of Grand Haven, will leave in July for the 12-month program. more...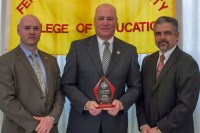 St. Clair County Sheriff Donnellon Receives COEHS Distinguished Alumni Award
Tim Donnellon, sheriff of St. Clair County, has received a 2013 Distinguished Alumni Award from the College of Education and Human Services. Donnellon graduated in 1987 with a Bachelor of Science degree in Criminal Justice, with high distinction. more...
News Headlines
» Alumnus Searles Honored with a University Pacesetter Award
» Pharmacy Alumna Schalk Honored with Pacesetter Award
» Pharmacy Alumnus Phillips Honored by Ferris with Pacesetter Award
» Inventor, Businessman Suman Honored as Distinguished Alumnus
» Businessman, Humanitarian Berden Named Distinguished Alumnus
» Faculty, Staff Awarded Ferris Foundation Exceptional Merit Grants
» Taracks Named Bachelor of Integrative Studies Outstanding Student
» Professor Ding Awarded Fulbright Scholarship to Teach in Hungary
» Torchbearer Awards Honor Ferris Students, Faculty, Staff
» Read More Ferris State University News Headlines