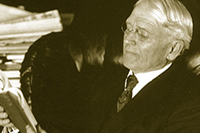 Ferris to Host 140th State History Conference Sept. 26-28 in Big Rapids

The University is the statewide sponsor and host of the 140th annual meeting and state history conference Sept. 26-28 in Big Rapids. more...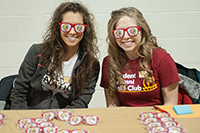 Alumni Association Homecoming Tailgate on Ice Event Planned for Oct. 4

This year, Ferris' homecoming celebration, "Bulldogs Get Down with Motown," will have a little hockey flavor in addition to the traditional activities. more...
News Headlines
» This Week at Ferris (Sept. 22-26)
» Hadeed Speaks at Fortune Through Failure Five Star Event
» Hofman Appointed to Serve on The Ferris Foundation Board of Directors
» Ferris 13th in U.S. News and World Report Regional Public Univ. Rankings
» Find Out What Pizza is 'Za Best of Za Best on Sept. 25
» Student Govt. Approves Co-Sponsorship, Mandate of Internal Assessment
» Read More Ferris State University News Headlines