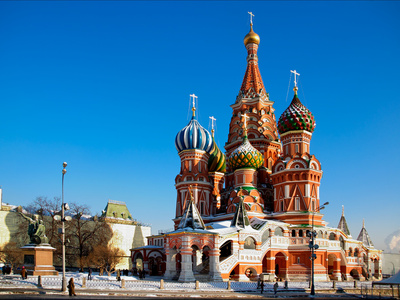 Literature and Biology
May 23 - June 5, 2016
Application · Budget Sheet
Gain knowledge of the country and diversity of its people through a study of courses in Russian literature, art, and food. The program will be a river cruise on the Volga from Moscow to St. Petersburg with stops in several cities along the way. Study will be further enhanced by field trips and museum visitations to such places as the Hermitage, the Russian Bolshoi, and St. Petersburg University.
BIOL 280: Applied Fermentation (3 credits)

LITR 241: Introduction to World Short Fiction (3 credits)

LITR 243: Literature and Film (3 credits)
Students may only take up to 6 credits with this program.
Estimated Cost of Study Abroad Experience:
Program cost: $2,920. Includes lodging (room on ship), insurance, meals, museum fees, field trip expenses, all group transportation, taxes, airport transfers, and visa costs ($230 included).
Airfare: $1,000. Costs may vary by traveler.
Tuition: $392 per credit, undergraduate junior/senior rate.†
Estimated Total Cost (with 3 credits): $5,096.00
Estimated Total Cost (with 6 credits): $6,272.00
Additional Costs:
Passport
Visa agency processing fee
Personal expenses, some meals
Please contact faculty for detail of expenses related to this program.
†Tuition rate for freshman/sophomore participants is $382 per credit hour.
Students will reside in staterooms on cruise ships.
May 23: Depart USA for Moscow, Russia.
May 24: Arrive Moscow. Embarkation ship.
May 25: Moscow city tour.
May 26: Moscow museums and sightseeing. Ship sails.
May 27: Arrive Uglich. Sightseeing tour. Ship sails.
May 28: Arrive Yaroslav. Sightseeing tour. Ship sails.
May 29: Arrive Goritsy. Sightseeing tour. Ship sails.
May 30: Arrive Kizhi Island. Sightseeing tour. Ship sails.
May 31: Arrive Mandroghi. Sightseeing tour. Ship sails.
June 1: Arrive St. Petersburg.
June 2: St. Petersburg city tours and Hermitage.
June 3: St. Petersburg field trip and Peterhof Palace.
June 4: St. Petersburg final day sightseeing.
June 5: Depart for USA