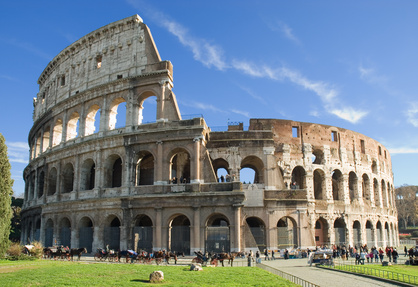 Literature, Film, Italian Language, or Biology
May 7 - 20, 2016
Application · Budget Sheet
Learn about the language, culture, and literature of Italy by visiting Rome, Capri, Florence, and Venice. Students will have the opportunity to visit locations such as the Roman Colosseum, the Sistine Chapel, St. Peter's, Chiesa of San Michele, and Monte Solare.
LANG 100: Italian Language (3 credits)
BIOL 280: Biology - Applied Fermentation (3 credits)
LITR 241: Introduction to World Short Fiction (3 credits)
LITR 243: Literature and Film (3 credits)
Students may only take up to 6 credits with this program.
Estimated Cost of Study Abroad Experience:
Program cost: $2,675 (estimated). Includes lodging, insurance, all miscellaneous travel (trains, boats, taxis, and buses), museum admissions, gratuities, taxes, and hotel transfers.
Airfare: $700 - $1,000. Costs may vary by traveler.
Meals (lunch and dinner): $200
Tuition: $392 per credit, undergraduate junior/senior rate.†
Estimated Total Cost (with 3 credits): $5,050.00
Estimated Total Cost (with 6 credits): $6,226.00
Not included in estimated cost:
Passport

Personal expenses, some meals
Please contact faculty for detail of expenses related to this program.
†Tuition rate for freshman/sophomore participants is $382 per credit hour.
Students will reside in various hotels.
Saturday, May 7: Depart Grand Rapids--Roma, Detroit--Roma
May 8: Arrive Roma - Hotel Cervia. Evening Sightseeing
May 9: St. Peters Basilica. Sistine Chapel. Pack for Capri.
May 10: Arrive Capri. Check-in Villa Eva-Anacapri. Dinner-Festa.
May 11: Visitation Faro, Damecuta, Saraceno. Journal Reports.
May 12: Free Day. Evening - Oral Reports and Tutorials.
May 13: Museum Tour of San Michele and Lecture. Free Evening.
May 14: Excursion Monte Solare. Visitation Blue Grotto. Evening Oral Reports and Tutorials.
May 15: Depart Capri, Arrive Florence. Evening Sightseeing.
May 16: Museums - Uffizi. Dante's Home. Lecture Machiavelli.
May 17: Duomo Visitation. Santa Croce. Oral Reports and Tutorials.
May 18: Optional Trip - Venice. Free Evening.
May 19: Depart Florence, Arrive Roma. Evening Festa - Final Tutorial.
May 20: Depart Roma. Arrive Grand Rapids or Detroit.