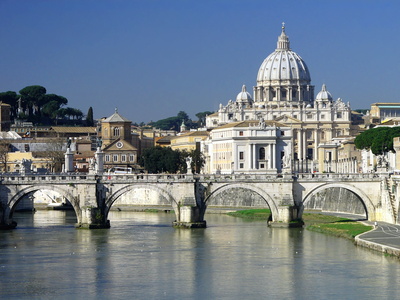 English: Research and Reasoning
June 30 - August 10, 2016
Application · Budget Sheet
Blending the experiences of travel and study, students will spend five weeks in Rome studying with faculty from both Ferris and John Cabot University in Rome. Students will discover daily life in Rome with assignments that involve research and exploration in the historic surrounding area. Included is the opportunity to study with other international students during the John Cabot University summer program.
ENGL 250 English 2 (3 credits)
John Cabot University Summer Course
Estimated Cost of Study Abroad Experience:
Program cost: $5,625. Includes, lodging, meals, John Cabot University summer course, and insurance.
Airfare: $1,000. Costs may vary by traveler.
Tuition: $392 per credit, undergraduate junior/senior rate.†
Estimated Total Cost (with 3 credits): $7,801.00
Not included in estimated cost:
Passport

Required textbooks and supplies
Personal expenses, some meals
Please contact faculty for detail of expenses related to this program.
†Tuition rate for freshman/sophomore participants is $382 per credit hour.
Students will stay in residence halls.