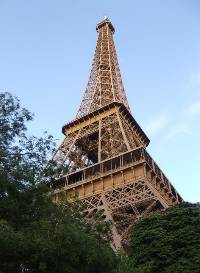 Art History and Philosophy in Europe's Cultural Capitals
May 11 - 28, 2016
Application · Budget Sheet
Discover the art and culture of Italy, France, and Spain as we travel to four cultural capitals: Rome, Florence, Paris, and Madrid. Each day, we will visit and study monuments, archaeological sites, churches, and world-class museums to experience European masterpieces in person.
This program will have us asking questions about the religious, political and social contexts in which these masterpieces were created. Highlights of the trip will include the ancient Roman Colosseum, the Vatican and Sistine Chapel, Michelangelo's David, Notre Dame Cathedral, the Louvre Museum, Versailles, the Prado Museum, and more.
ARTH 390: Cultural Capitals: Study Abroad (3 credits)
PHIL 390: Cultural Capitals: Study Abroad (3 credits)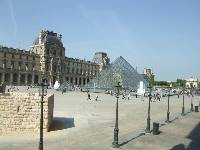 Louvre Museum, Paris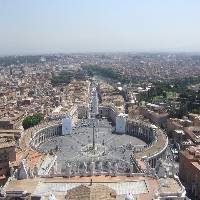 The Vatican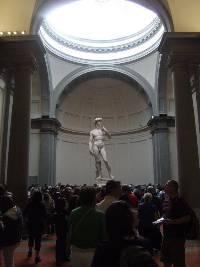 Michelangelo's David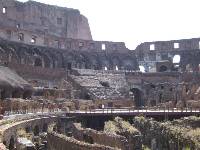 Roman Colosseum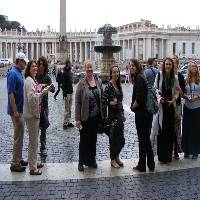 St. Peter's Square, The Vatican
Estimated Cost of Study Abroad Experience:
Program cost: $2,174. Includes ground transportation, lodging, some meals, entrance fees, and insurance.
Airfare: $1,350. Costs may vary by traveler.
Tuition: $392 per credit, undergraduate junior/senior rate.†
Estimated Total Cost (with 6 credits): $5,876.00
Not included in estimated cost:
Passport

Required textbooks and supplies
Personal expenses, some meals
Please contact faculty for detail of expenses related to this program.
†Tuition rate for freshman/sophomore participants is $382 per credit hour.
Students will stay in hotels. Breakfast at the hotel with café/street vendors for lunch and restaurants for dinner.
Tentative Itinerary
May 11: Travel by plane from Detroit to Rome
May 12: Arrive in Rome, visit Trevi Fountain and Spanish Steps
May 13: Visit important monuments of ancient Rome: Roman Forum, including the House of
the Vestal Virgins, Arches of Titus and Constantine, Roman Colosseum, Palatine Hill, Trajan's
Forum and Column. Also visit the Capitoline Museums.
May 14: Visit St. Peter's Basilica, including the Dome of St. Peter's, Vatican Museums,
including the Sistine Chapel and Raphael's School of Athens.
May 15: Museo Nazionale Romano: Palazzo Massimo and Baths of Diocletian, Castel
Sant' Angelo/Hadrian's Mausoleum
May 16: Pantheon, Church of Santa Maria Sopra Minerva, Piazza Navona, Afternoon activity
(students will chose between options, including the Protestant Cemetery, Christian Catacombs of
St. Sebastian, or the Baths of Caracalla)
May 17: Travel by train to Florence, visit Cathedral of Santa Maria del Fiore, Brunelleschi's
Dome
May 18: Visit Uffizi Gallery, Florentine Baptistery and Ghiberti' s Doors, and Ponte Vecchio,
Visit Piazzale Michelangelo at dusk
May 19: Visit Galleria dell' Accademia and Michelangelo's David, Afternoon activity (students
choices will include Santa Maria Novella, Fiesole, or the Pitti Palace Gardens)
May 20: Travel to Paris, River cruise at sunset, Visit Eiffel Tower
May 21: Visit Louvre Museum, Notre Dame, and Sainte-Chapelle
May 22: Visit Musee de l'Orangerie, Musee d'Orsay, Afternoon activity (Student choices may
include Arc de Triomphe, Sacre-Coeur, Catacombs)
May 23: Travel to Versailles
May 24: Visit Musee Rodin, Pompidou Center, and Pantheon
May 25: Travel to Madrid, Afternoon Activity TBA
May 26: Visit Prado Museum, and Retiro Park
May 27: Visit Queen Sofia Museum, Thyssen-Bornemisza Museum, and Royal Palace of
Madrid
May 28: Depart by plane