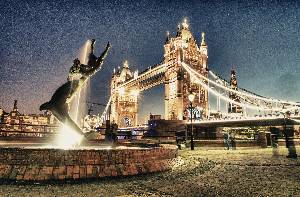 Entertainment Arts and Production
May 16 - 25, 2016
Application · Budget Sheet
This study abroad program to England will give students a unique international perspective towards identifying and analyzing many different facets the entertainment world as they appear in London (one of the most culturally diverse cities in the world). Students will have the opportunity to attend a variety of theatrical performances (ex: The Globe) and The West End and will tour different television and animation studios (ex: the BBC and Aardman). Students will also have the unique experience of visiting Warner Bros. Harry Potter dedicated studio as well as various international television broadcast facilities around the London area.
TDMP 240: Entertainment and Arts Production (3 credits)
THTR 332: Theatre History (3 credits)
Students will be staying in hotels.
Full itinerary to be announced. Highlights include The BBC in London, ITV, The British Film Institute (BFI), Film London, Warner Bros., Harry Potter and *Aardman Animation Studios. Museums in London such as the British Museum, The London Museum, The Tate Galleries, The National Theatre, The Old Vic, Covent Garden, The Tower of London, the Victoria & Albert.