Level: 3
Class: Writing
Instructor: Lisa vonReichbauer
In level 3 writing, students learn how to write essays in different organizational patterns. This lesson required students to write a compare and contrast essay based on two articles that they read related to experiences living between two cultures. The first article was an excerpt from the memoir "Lost in Translation" by Eva Hoffman, who moved with her family from Poland to Canada at the age of thirteen. Eva recounts the difficulties that she experienced trying to retain her Polish heritage while adapting to Canadian culture. The second article was the essay "The Struggle to be an All-America Girl" by Elizabeth Wong, who was born in the US to Chinese immigrants. Elizabeth grew up in California, and as a child rebelled against learning Chinese language and culture since she felt a strong desire to be an American girl. However, as an adult she had regrets about missing opportunities to learn more about her Chinese heritage.
The students read the articles and completed vocabulary exercises, comprehension exercises, and critical reading exercises such as using Venn diagrams to compare and contrast their own experiences with the experiences of the characters in the stories. The goal was to compare the ideas that they read about in the articles to what they had experienced since they moved to the US.
Below you will find an example of the Venn diagrams and the assignment sheet for the essay:
Venn Diagrams
Directions:
Using the Venn diagrams below, write details from the stories you read and details from your own experience to clarify differences and similarities between Elizabeth, Eva, and yourself.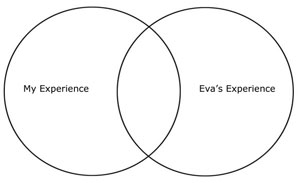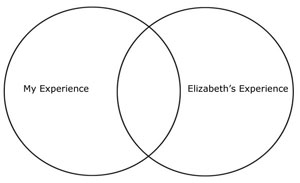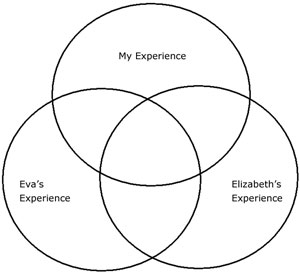 Essay Assignment
"Lost in Translation" by Eva Hoffman and "The Struggle to be an All-American Girl" by Elizabeth Wong
Steps to writing your essay.
Consider what you learned from the readings and what you have experienced since moving to the US.
Write a compare/contrast essay in which you compare and contrast your experience with what you read about the experiences of Eva Hoffman and Elizabeth Wong.
Your essay should be organized in block pattern or point-by point pattern.
Consider all of the work you have done related to the stories (worksheets, Venn diagrams, etc).
Explore your confusion and consider themes, characters, feelings, and perspectives.
Develop an outline with a thesis statement.
From your outline, develop a rough draft. In your draft, you must integrate ideas from the stories you read in the form of quotes, paraphrases, or summaries. The ideas from the stories should be compared or contrasted with your own experience.
Revise your rough draft by first focusing on content development. Be sure to include sufficient details and examples. Then make sure your ideas are organized logically and that your essay flows smoothly. After that make revisions to your sentences by looking at vocabulary choices and sentence structure and types. When you are happy with your language use, edit your essay for simple grammar mistakes, spelling errors, problems with punctuation, and formatting.
Edit your paper several times before printing and submitting it.