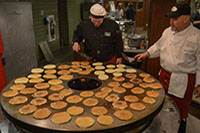 Pancakes with the President Kicks off the Start of Exam Week

Students can take a break from studying to attend Pancakes with the President at The Rock Café on Monday, Dec. 8. President David Eisler will be joined by faculty and staff to serve pancakes to students beginning at 10 p.m. more...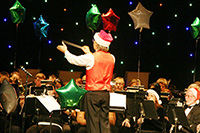 Concert and Charity Drive Brings the Holiday Spirit to Ferris

Ferris will be hosting "A Symphonic Santa Sunday," in Williams Auditorium on Sunday, Dec. 7 at 4 p.m. Concert organizers hope to get the audience in the holiday spirit. more...
News Headlines
» This Week at Ferris (Nov. 24-30)
» Bulldog Football to Host Ohio Dominican in NCAA Playoff Game
» Ferris Magazine Honors 130th Anniversary of University
» Blueline Club Gives $25,000 to 'Be a Playmaker' Campaign
» Alumnus Jason Proctor Named Oklahoma's Teacher of the Year
» University Hosts Native American Heritage Month Activities
» Read More Ferris State University News Headlines