Public Relations
Student Spotlight: A.J. Petix
This week's Student Spotlight is with A.J. Petix, a junior in the PR program.
Where are you from?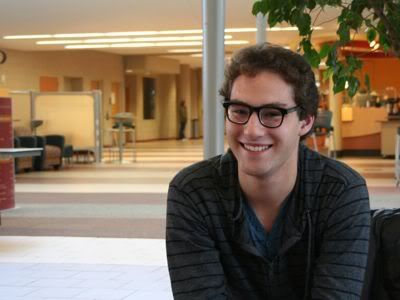 I am from New Baltimore, MI which is between Port Huron and Detroit. I went to Anchor Bay High School.
Why did you choose PR as a career path?
After getting an associates degree in graphic design from Ferris, I discovered that I was a better writer than designer. I love working with people and social media. PR was kind of a natural transition.
What internships or experience have you had so far?
I haven't had any yet, but I'm doing lots of research to get one for next summer!
What do you want to do with your career?
I want to work in media relations or intercompany communications. I'd love to do PR for a design firm or computer company. I'm constantly making designs for friends and family. My dream job would to do PR for Apple!
Are you involved in any other things on campus?
I am the Treasurer for PRSSA and an alumnus of Gamma Epsilon Tau. I am a DSA in Taggart and Pickell and also an AIGA member.