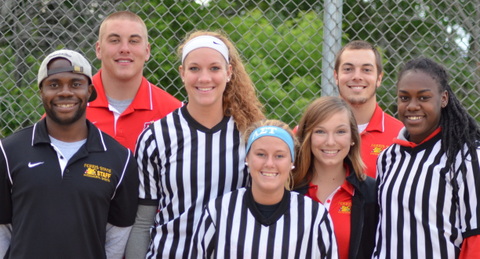 Interested in joining the Intramural Sports Team?
IM Sports hires officials for the entire sports line-up. We are always looking for highly motivated individuals to officiate our games and events. Most games are scheduled after 6 p.m. Monday – Thursday and after 5 p.m. on Sundays. Training is provided and officiating experience is not necessary. All officials' positions are paid and schedules are flexible. Working as an Intramural Official will not only provide you with the opportunity to make extra money but it also provides you the opportunity to meet new friends, develop leadership skills, and become involved in the Ferris State University community. In addition, the Intramural Official position is the first step towards becoming an Intramural Supervisor.
Qualifications
Must be currently enrolled as a student at Ferris State University.
Officials must complete the officials test for their respective sports during the classroom clinic. A passing score is 80% (or better). Should this standard not be met on the first try, a re-test can be scheduled.
How to Apply

Please stop by the Intramural Office and pick up an application. All officials will be provided with sport-specific training and are paid on a per game basis.
For more info please contact the IM office:
(231) 591-5304 or recsports@ferris.edu