Ferris State University News Headlines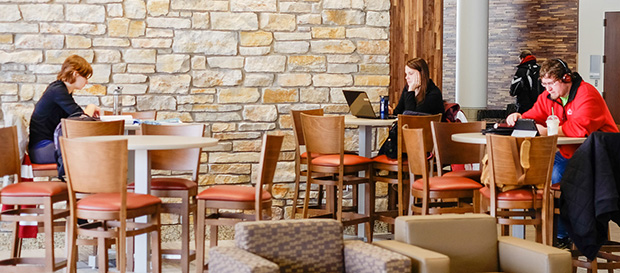 August 2015
Monday, Aug. 10
Students earn pride, college credit in summer Promesa program
Big Rapids Pioneer
Twenty-seven Holland-area students ditched their traditional summer staples of sleeping in, hanging out with friends and days at the beach to buckle down and take college courses in Holland through the Ferris State University's Woodbridge Promesa Summer Success Program. Read more from the Holland Sentinel.

Monday, Aug. 3
Bulldog hockey golf outing continues a legacy
Big Rapids Pioneer and TV 9&10 News
The Ferris State hockey team held their 29th annual golf outing to raise funds for the upcoming season. The outing sold out with more than 170 current coaches, alumni, and Big Rapids community members participating. Current Ferris hockey players mixed with Ferris alumni from up to 30 years graduated, and were able to network and converse during the event. Several established alumni returned to participate in the golf outing including recent graduates like CJ Motte as well as new Red Wings head coach, Jeff Blashill. Watch TV 9&10 News.
Saturday and Sunday, Aug. 1-2
Little Kevin Hockey Fund event raises money for youth
Big Rapids Pioneer
Ferris State hockey alumni and Big Rapids law enforcement and firefighters came together to play a softball game to raise funds for the Little Kevin Hockey Fund in memory of Kevin Courtney Jr. Through donations and a 50/50 raffle the event raised nearly $1,500 for the Big Rapids Junior Hockey Association and the Learn to Skate program. This event shows the support and strong relationship between the community, the Courtney family, Bulldog Hockey and the Big Rapids Cardinals.
July 2015
 
Monday, July 27
Faithful through adversity
Big Rapids Pioneer
Carlton Brewster, a Ferris State University alumnus, former Bulldog football player and former NFL receiver, landed his first head coaching job at Godfrey Lee High School in Wyoming. 

Saturday and Sunday, July 25-26
Ferris State offers summer camps to students
Big Rapids Pioneer
Middle and high school students welded in the Ferris State University welding lab, and also designed on campus computers, blasted rockets from the university's field and used a machine to prototype Hot Wheels. Six students from across Michigan received the "college experience" through this Design and manufacturing Camp hosted at Ferris.


Thursday, July 23
McEwen is trading in a helmet for a headset
Big Rapids Pioneer
Former Ferris State University defensive back Adrian McEwen has taken on a new role as coach at Davenport University in Grand Rapids. McEwen's professional career stalled due to an injury, but his new role coaching role will now focus on Davenport's defensive backs.


Friday, July 17
Ferris students gain experience leading orientation
Big Rapids Pioneer
Ferris State welcomes 2,500 new students this summer and 23 current Ferris students are leading orientations to help make introductions to their college life. These students are giving tours, presentations and interacting with the incoming students and their families throughout the day.
June 2015

Friday, June 26
The Next Generation
Big Rapids Pioneer
Ferris hockey players coach and teach youth hockey players at annual summer camps. One week of the half-day camp concluded Thursday with two scrimmages, with teams broken down by age. Full-day camps begin Sunday. Week two runs through July 2 and is separated into three groups compromised of players ages 9-14. Ferris seniors, goaltender Charles Williams and defenseman Simon Denis are the main instructors.

Thursday, June 25
Ferris Community Summer Band to Play at Block Party
Big Rapids Pioneer
The Ferris Community Summer Band members performed on Thursday, June 25, at 7 p.m. at the annual Spectrum Health Big Rapids Hospital Auxiliary Community Block Party, located at Centennial Park. The band includes middle school, high school and college students, as well as professional musicians and community members (the band always accepts new members). 

Wednesday, June 24
Inspiring Your Mind
Big Rapids Pioneer
Ferris State hosts writing camp for local students; the Bulldog Writers camp is a function of the Ferris Crossroads Writing Project, a part of the National Writing Project. Students were given random prompts on different creative writing topics, learning writing techniques for dialogue, personal opinion pieces, poems, short stories and essays.
Weekend, June 20-21
FSU Public Safety Director Speaks at Rotary
Big Rapids Pioneer
Ferris State University public Safety Director Bruce Borkovich spoke to the Big Rapids Rotary Club. He covered many topics, but focused on the prevention of sexual assault and drug use on campus. Ferris is, statistically, doing a better job of prevention in these categories than national averages. 

Tuesday, June 16
Preparing for the Future
Big Rapids Pioneer
Ferris' main campus has undergone construction of the new University center and now, it is continuing with the demolition of Helen Ferris Hall. The Ferris Board of Trustees added the demolition project to the master plan in February with the intention to create an open main campus focused on pedestrians.

Weekend, June 13-14
FSU Holds Summer Camp
Big Rapids Pioneer
Ferris State University held several two-day summer basketball camps, where Reed city, Morley Stanwood and Chippewa Hills' basketball teams worked with Ferris basketball players to improve their skills. The event was held by the Ferris State men's basketball team. These camps allow the Ferris basketball team to get a good look at possible recruits for upcoming seasons to play as a Bulldog. The camps are set up as a scrimmage tournament style camp, allowing camp members to play against one another.

Thursday, June 11
Community Ensemble
Big Rapids Pioneer
The Ferris Community Summer Band performed the first concert of the Band's 50th annual season on Wednesday June 10. The Community Summer Band is sponsored by Ferris State University and consists of musicians from all over the community. Middle school and high school students, Ferris State students, and Big Rapids community members join each other to perform popular songs each week. 


Wednesday, June 3, 2015

Bulldog Bike Tour Set for June 20
Big Rapids Pioneer
The Bulldog Bike Tour is scheduled for Saturday, June 20 from 6 a.m. to 6 p.m. The annual event supports scholarships for Ferris State University students. This year's tour features options for 10, 23, 40, 55 and 100 miles on flat to rolling terrain with a few challenging hills on the longer routes. The Big Rapids Pioneer reporterd on the Bulldog Bike Tour and had comments from Kelly Seitter, organizer of the event that is sponsored by the Ferris Alumni Association. Read more at the Ferris website.

Greenville's Zimmer a Preseason Football All-America Selection
Greenville Daily News
The Ferris State University football team is coming off a banner season during which it won its first Great Lakes Intercollegiate Athletic Conference championship since the 1999 season and qualified for the NCAA Division II Tournament for the first time since 1996. The Greenville Daily News reported on hometown product Justin Zimmer being named a preseason All-America. Click on Greenville Daily News to read the full story.


Monday, June 1, 2015

Eyes on the Griffins and Blashill
TV 9&10 News
A lot of speculation is flying about the possibility that Ferris State University alumnus, former goaltender and former assistant coach Jeff Blashill is in line to become the next head coach of the Detroit Red Wings. TV 9&10 News has a video clip and story posted about Blashill, the current head coach of the Grand Rapids Griffins of the American Hockey League, and the possibility that he could become the new Red Wings coach. Read more at TV 9&10 News.
 

May 2015

Friday, May 29, 2015
Ferris Announces Summer 2015 Enrollment Increase from Previous Summer
Big Rapids Pioneer, Page 3A
Ferris has a summer enrollment of 5,978 students which is an increase of 354 students from the summer of 2014 which had a total attendance of 5,624. The main campus in Big Rapids has 3,836 students enrolled, 1,183 students are enrolled in statewide locations and 308 enrolled at Kendall College of Art and Design. This summer semester, an additional 97 international students are in attendance on top of the current 309 taking courses. Diversity is being shown through Ferris' other enrollment increases: African American student attendance is up by 42 to 389, Hispanic attendance is up by 37 students, white student increase by 137 to 4,497. The total gender attendance is split: 3,307 female students to 2,671 male students. As far as main campus, 1,929 students are females and the other 1,907 are males.


Thursday, May 28, 2015
Alumni Donate $1.5 Million to Ferris State University College of Pharmacy
Pharmacy Times
Ferris State University has received a $1.5 million gift from alumni Jeff and Annette Rowe for the College of Pharmacy.
The gift includes funding for the renovation of the Hagerman Pharmacy Building and scholarship for students accepted into the PharmD/Master of Business Administration program, reports Pharmacy Times. The Rowes have designated $1 million for the renovation of the Hagerman Pharmacy Building and $500,000 for the Jeff and Annette Rowe Joint Pharm.D./MBA Annual Scholarship. Read more at Pharmacy Times.

Alumni donate $1.5 Million to College of Pharmacy
Big Rapids Pioneer, Page 2
Ferris receives a gift of $1.5 from alumni Jeff and Annette Rowe for the College of Pharmacy. $1 million will be used for the renovation of the Hagerman Pharmacy Building and $500,000 for the "Jeff and Annette Row Joint Pharm.D./MBA Annual Scholarship. This donation is the second major gift for the College of Pharmacy; following up from the $5 million gift from the Phil and Jocelyn Hagerman through the Hagerman Foundation which is the largest donation ever given to Ferris.

Thursday, May 21, 2015
Community Tees Off
Big Rapids Pioneer, Page 1 and 11
The Mecosta County Area Chamber of Commerce hosted the Pioneer Group Chamber Open on Wednesday May 20 at Clear Lake Golf Club. More than 100 participants played 18 holes and received breakfast, lunch, and dinner; included in the 100 participants was Ferris State President, David Eisler. Teams played in a scramble style with four players, and helped raise funds for other Chamber events. Prizes and gifts were given to participants as they progressed through the course, including tips and pointers from instructors form the professional golf management program at Ferris State University.