PBS Series that Featured the Jim Crow Museum Wins George Foster Peabody Award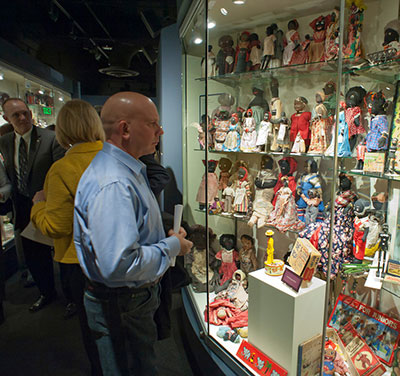 The PBS series "The African Americans: Many Rivers to Cross with Henry Louis Gates Jr." recently won a 2013 George Foster Peabody Award.
The Peabody Award was established to recognize well-done storytelling in electronic media. The motto of the Peabody Award is "awarding stories that matter."
The Jim Crow Museum of Racist Memorabilia at Ferris State University was featured during the series as part of a visit by Gates to Ferris' Big Rapids campus. Gates, a noted Harvard scholar, visited the museum in November 2012 with a PBS film crew to shoot a segment for the six-hour series which chronicles 500 years of black history. Episode four, "Making a Way Out of No Way," focused on the Jim Crow era. As part of the episode, Gates interviewed David Pilgrim, Ferris' vice president for Diversity and Inclusion who also is founder and curator of the Jim Crow Museum.
The 3,500-square-foot museum, located in the Ferris Library for Information, Technology and Education, features a timeline of the African American experience in the U.S.
"I have for many years believed that Ferris State University can and should have a voice in national dialogues about race, race relations and racism," said Pilgrim, when the episode originally aired. "The inclusion of the Jim Crow Museum in this important film suggests that the university is well on its way in partnering in important national discussions."
Hours are noon to 5 p.m. Monday through Friday. Admission is free. For more information, call (231) 591-5873 or visit here.
For more information on "The African Americans," and to watch previously aired episodes, go to this website.
The 2013 Peabody Award winners can be found here.
To learn more about the origin of the Peabody Award, visit here.