Students Can Win Prizes in The BIG Event Photo Challenge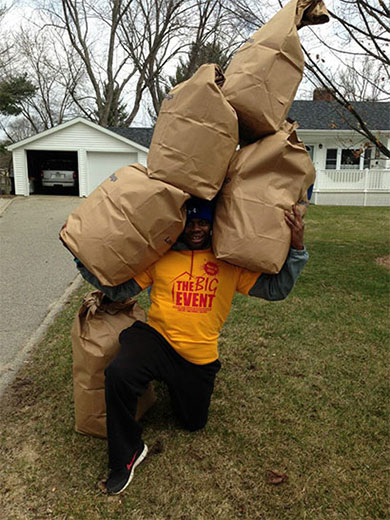 Students participating in The BIG Event can perform community service activities and have an opportunity to win prizes by taking and submitting photos.
This year, The BIG Event takes place on Saturday, April 12. Activities begin at 9 a.m. from Top Taggart Field.
Submitting entries for the photo challenge is a two-step process. Step one: Take a creative photo at a job site during The BIG Event. Step two: email the photo to sandygholston@ferris.edu with your name, hometown, academic major and class standing. All entries must be submitted by Sunday, April 13 at 11:59 p.m. After all official entries are submitted, the images will be uploaded to a gallery on the Ferris Facebook page.
Four winners will be selected from the official entries. The four winners will receive a Ferris State University-branded pullover. All prizes are courtesy of the News Services and Social Media Department.
The BIG Event is the largest student-run community service project in Michigan. As part of this effort, Ferris students take an entire Saturday to give back to the Big Rapids community. Homeowners can apply for anything from having their leaves raked to having their house painted. The purpose of the event is for Ferris students to show their appreciation for the community that they live in as well.

For more information about The BIG Event, visit:
https://www.youtube.com/watch?v=xYobUTab3gk