Greek Organizations Gear Up for Recruitment, Events at Ferris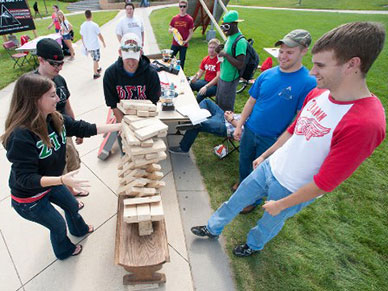 Ferris State University's Greek community is getting ready to welcome new members and get busy on upcoming events.
"Involvement in Greek organizations is an opportunity to learn how to run a business, develop leadership skills, learn how to work with a team, encourage academics, promote philanthropy, develop leadership skills and much more," said Amber Kneibel, assistant director of the Center for Leadership, Activities and Career Services.
Greek organizations participate in and host many activities throughout the academic year, including homecoming, Five-Star events, Greek Week festivities and many community service activities.
"Membership teaches you how to be a valuable contributor to society and plan for your future career," said Kneibel, who advises the university's Panhellenic Council that oversees six social sororities on campus.
In addition to the social sororities, Ferris has six professional fraternities and sororities, seven Interfraternity Council fraternities, three Black Greek Council sororities and two Black Greek Council fraternities. About 500 students are involved in Greek organizations on campus, Kneibel said.

All Panhellenic Council and Interfraternity Council organizations hold organized recruitment events during the fall and spring semesters.
Sorority recruitment for the fall semester gets under way on Friday, Sept. 13. Interested women are encouraged to participate in all three events: Meet and Greet at 5 p.m. Friday; Philanthropy Day at 3:45 p.m. Saturday, Sept. 14; and Preference Day at 9 a.m. Sunday, Sept. 15. All events will be held in the Interdisciplinary Resource Center, Room 120.
Those interested should pre-register online at http://orgsync.com/18435/forms/72593. There is a $10 non-refundable fee to participate, which includes a reusable tote and refreshments.
Interfraternity Council and professional organizations also are recruiting members; events can be found on posters on campus and on the university events calendar: http://calendar.ferris.edu/.
Black Greek Council organizations hold individual events throughout the year and also announce their informational meetings through posters on campus and on the university events calendar (http://calendar.ferris.edu/).
To learn more about Greek life, contact the CLACS office at (231) 591-2685 or visit http://ferris.orgsync.com/GreekLife.