Marquardt Settles in as New Director of the Office of Housing and Residence Life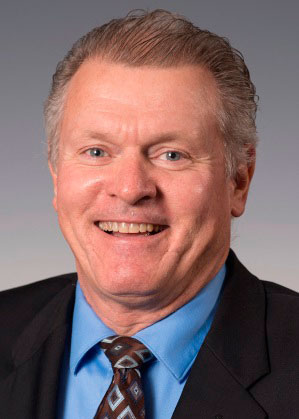 Bryan Marquardt, a long-time Ferris State University employee, began his duties as director of Housing and Residence Life earlier in the Fall 2013 semester.

Marquardt came to Ferris in 1987 after he earned a degree in hotel and restaurant management from the University of Wisconsin Stout. He started as an employee of Dining Services. Recently, when the director of Housing and Residence Life position opened up, Marquardt was confident that he would be a great fit.

"I feel I have the vision as the director of Housing and Residence Life to enrich the student experience," Marquardt said. "The residents at the university need to be treated as guests and we need to enhance the quality of life and the residence experience for our guests."
The first challenge that Marquardt faced was during a partial university power outage in early October. He worked collaboratively with Housing and Residence Life staff to make the best living and dining environment possible for people who were without power.

Marquardt believes that now is an exciting time to be at Ferris as the university population continues to grow. Working at Ferris has been a positive experience for him. He is currently establishing goals to improve life on campus for his residents.

"One of my goals is to enhance and in some cases start a recycling program in the residence halls, suites and apartments. I would like to start in the areas I supervise and hope to someday see every building on campus recycling," Marquardt said. "We have taken some steps on campus but I would like to see us take recycling to the next level."

Marquardt is actively involved in both on-campus and off-campus activities. He coached the Ferris club hockey team for 10 years, leading it to a national championship in 1994. He has coached local youth equestrian, basketball, hockey, baseball and soccer teams for more than 30 years.

In 2007, Marquardt was co-chair of the Westview Dining Services team that won the Distinguished Team Award. He was recipient of the Distinguished Staff award, in 2012, along with Nick Campau and Deb Ducat.
Marquardt oversees 31 buildings on campus. Fourteen of those buildings are residence halls and 17 are suites and apartments. Ferris has 4,000 residents living on campus. The Housing and Residence Life staff includes 15 full-time employees and 195 part-time student employees.


For more information about Housing and Residence Life, visit:
http://www.ferris.edu/HTMLS/studentlife/reslife/