Wright Ready to Apply Education to Career in Design and Concept Illustration for Fashion Products
This story is taken from the Spring 2013 issue of the Points of Pride newsletter published by University Advancement and Marketing. The annual edition features some of the talented and driven graduating students who have demonstrated a drive to succeed by doing their best work and taking full advantage of their time at Ferris. View the newsletter online here: http://ferris.edu/HTMLS/news/pride/
Kendall College of Art and Design
Katie Wright
Age: 22
Hometown: Traverse City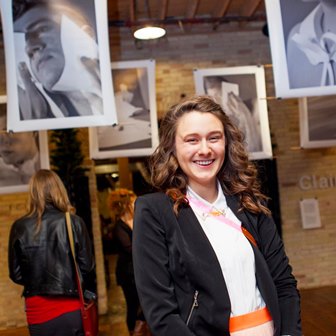 Degree: Bachelor of Fine Arts in Illustration, Art History minor
She is: The director behind the conceptual design of Kendall's annual Bodies of Art fashion show, "1001 Sheets, Papercraft."
"Katie is a strong leader who understands how to collaborate with students of various disciplines," said Sandy Britton, director of Enrollment Management at Kendall. "Katie's desire to be a leader along with her demonstrative drive and enthusiasm will contribute to her success."
Awards and honors: Dean's List, Portfolio Scholarship recipient, Northern West Michigan Art Competition winner
Campus and community: Bodies of Art (Fashion Alliance) president, designer, creative director, member; Sleeping Bear Dunes National Lakeshore volunteer; exhibiting artist, designer, co-creator of various art exhibits in the Grand Rapids area
Point of Pride: "My personal growth in multi-departments, connections I have made and the opportunities that have resulted because of those connections. Kendall's staff and resources make those student-professional connections happen."
What inspired her to pursue this degree: "The drive to make my passion a sustainable career."
A formative experience at Kendall: Collaborations with Kendall staff and fellow students.
"These experiences have prepared me to work among other creative professionals with a range of different ideas and concepts."
Her plan: To apply what she's learned to a career in design and concept illustration for fashion products.
"I would feel privileged to become part of an art department for an apparel or fashion product company where I could apply my specific skill set in trend and material forecasting, designing color and pattern arrangements, and my fashion illustration and product rendering skills."
She also hopes to earn a master's degree in Art/Creative Direction.
"I have ambitions to see myself one day as a leader of an art department for a major lifestyle or design corporation."
A person at Kendall who inspired her: Nicole DeKraker, director of Student Activities
"Nicole works tirelessly to give Kendall students opportunities and extracurricular experiences to benefit their futures. Without her assistance, many student organizations and study- abroad opportunities would not have a presence on campus. I admire, above all, her ambitious spirit and optimism about the futures of Kendall students. Nicole is an example of a Kendall staff member who surpasses standards."
Advice for students: "Do what you are most passionate about NOW. Don't wait until it's too late to realize it. Do it with disregard for what others might think or doubts you may have. The time and opportunities are now. Make sure you are on board."
A passion: Supporting young, creative art and design professionals working in Michigan, and promoting local growth, especially in the arts, design and craftsmanship fields. 
Little-known facts: "I have never owned a car, I am deathly afraid of birds and I have read the Harry Potter series (in full) seven times through, once backwards."
One word that best describes her:   Devoted
Favorite restaurant in Grand Rapids:           Marie Catrib's
Favorite season: Summer in Northern Michigan
Favorite place to travel:  Upper Peninsula
No. 1 on her bucket list: To live in a foreign country
Favorite movie character: Emmett "Doc" Brown in "Back to the Future"