Shiyarwala is a Proud Michigan College of Optometry Grad Achieving a Long-Term Goal
This story is taken from the Spring 2013 issue of the Points of Pride newsletter published by University Advancement and Marketing. The annual edition features some of the talented and driven graduating students who have demonstrated a drive to succeed by doing their best work and taking full advantage of their time at Ferris. View the newsletter online here: http://ferris.edu/HTMLS/news/pride/
College of Optometry
Charmi Shiyarwala

Age:  25
Hometown:  Calgary, Alberta, Canada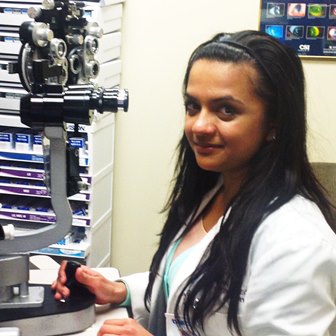 Degree:  Doctor of Optometry (Bachelor of Science in Biology, University of Calgary, 2009)
Awards and honors: Michigan College of Optometry Dean's List, Allergan Essay Travel Grant, Indian Heritage Foundation of Calgary Scholarship, India Canada Association of Calgary Award
Campus and community: Optometric Services to Humanity student volunteer to raise money for mission trips, Michigan College of Optometry Student Ambassador, Ferris Health and Wellness glaucoma screenings provider
Point of Pride: "I'm proud of being a Michigan College of Optometry grad and achieving my long-term goal of being an optometrist."
What inspired her to pursue this degree: "Growing up, I was always fascinated with the anatomy and physiology of the eyes. When deciding a career path, I knew I was interested in the medical field and direct interaction with patients. I worked for a few different optometrists in my hometown, and I loved what they did and what differences they made in their patients' lives. At that point, I knew that I wanted to become an optometrist."

A formative experience at Ferris: "The faculty and staff at the Michigan College of Optometry have given me excellent skills, knowledge and training to maximize patient care and be an outstanding optometrist."
Her plan: To work in the metro Detroit or Chicago area.
"I would like to be part of a team where I can practice the full scope of optometry."
 In the future, she hopes to own her own practice "in a city providing excellent primary and secondary eye care."

Favorite Ferris tradition: The International Festival of Cultures hosted annually by the Office of International Education.
"I loved tasting food from around the world. I liked learning about different cultures and their traditions."

Advice for students: "It's not easy to achieve goals in life, but it is true when they say hard work pays off."

What she will miss most about Ferris: "I've built a close relationship with the staff and faculty at the College of Optometry. I will miss the MCO family."

What she likes most about Big Rapids: "I like the fact that Big Rapids is a small town, which helped me adjust to a new town quicker."

A passion: Helping those in need
An adventure: Charmi traveled on a mission trip to Mexico to provide free eye care.
Little-known fact: "I love to dance. In my undergraduate years, I was involved in a non-profit Indian organization and choreographed Bollywood dances to raise money for the organization."

One word that best describes her: Kind

Favorite Big Rapids restaurant: Pizzeria Vivo
"I love their white shrimp pizza and garden vegetable pizza."

Favorite season: Summer
No. 1 on her Bucket List: Backpacking through Europe