A Driven Student, Ensing is Well on Her Way to a Promising Career in Health Care
This story is taken from the Spring 2013 issue of the Points of Pride newsletter published by University Advancement and Marketing. The annual edition features some of the talented and driven graduating students who have demonstrated a drive to succeed by doing their best work and taking full advantage of their time at Ferris. View the newsletter online here: http://ferris.edu/HTMLS/news/pride/
College of Health Professions
Heather Ensing
Age: 22
Hometown: Big Rapids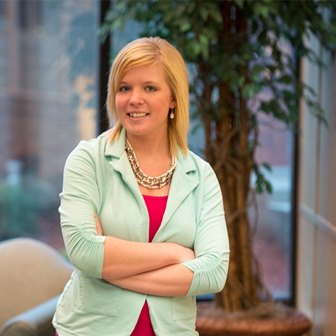 Degree: Bachelor of Science in Health Care Systems Administration and Health Information Management (Associate of Applied Science in Health Information Technology, 2011)
She is: "A very driven student," said Gregory Zimmerman, head of Ferris' Clinical Laboratory Sciences, Respiratory Care and Health Administration programs. "She apparently impressed more than her faculty since she was made a full-time job offer while she was still on her internship. Heather's hard work has paid off, and she is well on her way to a promising career in health care."
Awards and honors: College of Health ProfessionsDean's List
Point of Pride: "Ferris State University has provided me with the encouragement to continuously set new goals, the motivation to overcome all hurdles and the education to successfully carry out each of my objectives."
What inspired her to pursue this degree: "I always knew that I wanted to have a career in the health care industry. After speaking with my aunt, who is a registered health information technician, I decided that health information would be a good match for me. After speaking with a coder at Spectrum Health, I decided health care systems administration would complement my other degree, so I decided to do that as well."
A formative experience at Ferris: "My coursework required me to complete two internships. I did my first one at Butterworth and Blodgett hospitals in Grand Rapids and my final one at Mecosta County Medical Center in Big Rapids. Both of the internships allowed me to apply knowledge from my classes and experience the material first-hand. For example, I am working on Mecosta County Medical Center's Community Health Needs Assessment. At first this task seemed like a challenge, but as time went on I realized that both of my degrees had provided me with the tools to successfully complete this assignment."
Her plan: Heather will begin her career as a medical records specialist with Mecosta Health Services, Inc.
Advice for students: "Determine what will make you happiest, and just go for it. Lay out the steps it will take for you to reach your goals, and take them one at a time. Always keep your options open, and take advantage of every opportunity that comes your way."
What she likes most about Big Rapids: Heather grew up in Big Rapids and went from being a Brookside Bear to a Big Rapids Cardinal to a Ferris State Bulldog, and now she will begin her career here.
"I have been able to successfully fulfill all of my goals while enjoying the comfort of my hometown."
Her passion: Learning. "If someone said they would pay me to go to school for a living, I would do it in a heartbeat."
Favorite Big Rapids restaurant: Pepper's
Favorite season: Fall
One word that best describes her: Determined