Construction Management Major Interns at the Downtown Market in Grand Rapids
Ferris State University students gain valuable work experience through internships. Internships also can confirm or redirect career decision-making, provide marketability, develop people skills and enhance classroom learning. Many academic programs require one, but the experience is encouraged regardless to provide students with a better understanding of what will be expected of them in the workplace.
Many students are participating in myriad internships this summer. Meet: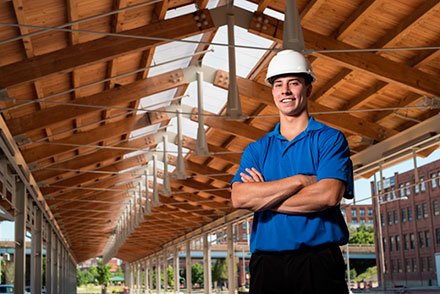 Adam Wheeler
He is: A sophomore from Stanwood, Mich., majoring in Construction Management
Internship: Downtown Market, a new urban food center in Grand Rapids, Mich. The venue includes 25,000 square feet of market space for retailers, a restaurant, demonstration kitchens, a brewery, rooftop greenhouse and a farmer's market.
Adam's six-week internship is paid. He credits Ferrell Clark, an assistant professor in the College of Engineering Technology's School of Built Environment, with helping him land the opportunity.
What he's learning: Adam's job title is "build-out liaison," which includes giving tours of the building, providing information and assistance to tenants, and creating equipment lists.
"I have to learn as I go," he said. "Everything that I have learned so far will greatly benefit me. The position that I have been put in has taught me so much about reality and what to expect after graduation."
The internship with The Downtown Market has assured Adam he is going into the right career field.
"This is something that I have wanted to do since the beginning of middle school and it's cool that it has still stuck with me," he said. "My father and grandfather were construction workers, so it's nice that I can keep that in the family."
Favorite experience: "My favorite experience has either been being on the job site with the tenants and seeing their expressions as they come into the building, or the thanks I get from the tenants," he said. "It's a very satisfying experience."
On campus: Adam credits his education at Ferris and campus involvement – he's a member of the Associated Construction Students registered student organization and also plays on football, softball and basketball intramural teams – with preparing him for the internship.
"Ferris will show you everything you need to know in order to do your job," Adam said. "I just finished my freshman year, but what I have learned so far is that in order to be successful you have to have a few things. You have to be social and not afraid to throw yourself out there and see what the world has to offer. You also have to be appreciative of any help you get along the way. And you have to be willing to take on a leadership role."
His plan: Adam wants to gain more experience through additional internship opportunities. After he graduates in May 2015, he plans to seek a position with a large construction company.

MEET THE INTERNS HOMEPAGE