Ferris Rubber Group Student President Newby Awarded Prestigious Scholarships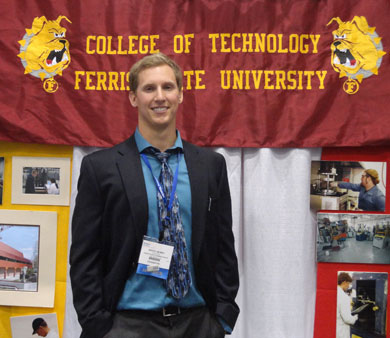 A Ferris State University student majoring in Rubber Engineering Technology is racking up accolades, including several significant scholarships.
Brent Newby, a senior and president of the Ferris Student Rubber Group, has earned more than $10,000 in scholarships related to his field from such organizations as the Los Angeles Rubber Group and Michigan Rubber Group.
The Rubber Division of the American Chemical Society has honored Newby with scholarships that include the prestigious American Chemical Society Scholar title that carries a $5,000 award. He also earned scholarships for presentations at its 2011 and 2012 National Technical meetings and International Rubber Expo.
"Scholarships are out there, and people in the rubber industry really want to help you," said Newby, a native of Bakersfield, Calif. "All it really comes down to is showing an interest in the field and putting forth an effort."
Matthew Yang, an associate professor in Ferris' College of Engineering Technology, accompanied Newby to the 2012 event last month in Cincinnati.
"Brent always wants to pursue the best, and he is confident that he can excel in his field and compete with other universities," Yang said. "We are the only university that provides a great deal of hands-on training in rubber engineering."
Ferris works closely with rubber industry officials, who offer support for the needs and success of the College of Engineering Technology program, he said.
"I am proud in those moments when the feedback tells me that we are doing the right things as a team –the students, the industry and the program," Yang said. "It goes to show that we are doing something right. We have an education niche that is much different than other universities. Ferris does it right."
When he graduates in May, Newby plans to return to California to work for his family's business, Newby Rubber Inc., while pursuing a master's degree in business.
"You can literally get a job anywhere you want with this degree," Newby said. "The average age of people who work in the rubber industry is 58 years old. Chances are they're not going to be working for the rest of their lives, leaving a huge void and a high demand for Rubber Engineering graduates."
For more information on the Rubber Engineering Technology program visit:
http://www.ferris.edu/HTMLS/colleges/technolo/design-mfg/Rubber/homepage.htm