Ferris to Host Rube Goldberg Machine High School National Finals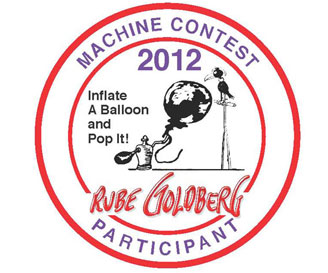 Who knew popping a balloon could be so difficult?
Ferris State University will host high school teams from across the country on Saturday, March 17 for the national competition of the Rube Goldberg Machine Contest. Their task: Design the most inventive gadget to inflate a balloon and then pop it.
Thirteen teams of boys and girls representing Connecticut, Illinois, Indiana, Minnesota, New York, Ohio, Texas and Wisconsin won their respective regional competitions to advance to the national finals at Ferris. The competition begins with introductions at 10 a.m. at Wink Arena; the winner will be announced during a 1 p.m. awards ceremony. The event is free and open to the public.
Teams will present their machines – no larger than 6 feet square – engineered to perform the simple task of the 2012 challenge in at least 20 steps. Vying for the winner's trophy will be Grace Baptist Christian School from Plymouth, Ind., whose entry "Game Night" won the Feb. 18 regional competition, also held at Ferris.
Rockford High School in Rockford, last year's regional winner, took second place and West Catholic High School in Grand Rapids finished third at the regional battle.
The competition honors Rube Goldberg, the late Pulitzer Prize-winning cartoonist known for taking a simple task and making it extraordinarily complicated.
That is the heart of engineering, said Thomas Hollen, the Ferris' program coordinator for Energy Systems Engineering and Mechanical Engineering Technology who serves as chairperson of the RGMC regional and national high school events.
"This is such a great experience for students," said Hollen, also the Ferris team's coach for the college competition. "It's an opportunity to compete with your mind. Any time I see students use their minds to create, I love it."
A panel of six to eight judges will evaluate the machines on their general design and creativity, how well the machines represent Rube Goldberg and how easy it is to see each step. Penalties will be assessed for any technical difficulties.
A team from Ferris' College of Engineering Technology will compete in the collegiate division on Saturday, March 31 at Purdue University in West Lafayette, Ind.
Learn more about the national competition taking place at Ferris here: http://www.ferris.edu/HTMLS/colleges/technolo/rube/homepage.htm.
For more information on Rube Goldberg and the machine contests, visit:
http://www.rubegoldberg.com/.