Wisconsin Team Wins Rube Goldberg National Competition at Ferris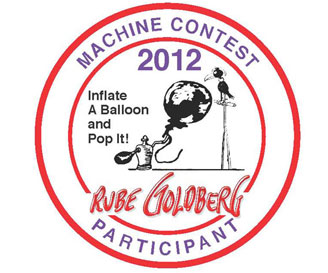 A high school team used inspiration from the Disney movie "Up" to create a contraption worthy of a national title in the 2012 Rube Goldberg Machine Contest held at Ferris State University.
Kimberly High School in Kimberly, Wisc., designed a machine that used 31 steps to inflate a balloon and pop it. The team defeated 12 other groups competing in the national RGMC finals held Saturday, March 17 at the university's Wink Arena.
"The competition was good this year," said Thomas Hollen, Ferris' program coordinator for Energy Systems Engineering and Mechanical Engineering Technology who serves as chairperson of the RGMC regional and national high school events. "There were some good machines and team spirit out there. They were very creative machines and costumes."
Second place went to Minooka Community High School from Minooka, Ill., for "Mr. Rubeorium's Wonder Emporium," which used 38 steps to complete the simple task of the 2012 challenge. Anderson High School from Anderson, Ill. took third place.
Teams from Connecticut, Indiana, Minnesota, New York, Ohio and Texas that won their respective regional competitions also presented machines.
The competition honors Rube Goldberg, the late Pulitzer Prize-winning cartoonist known for featuring complex machines designed to complete a simple task. A panel of judges evaluated the machines on their general design and creativity, and how well the machines represent Rube Goldberg.
The winners in the high school division are invited to attend the collegiate division on Saturday, March 31 at Purdue University in West Lafayette, Ind. A team from Ferris' College of Engineering Technology will compete.
For more information on Rube Goldberg and the machine contests, visit http://www.rubegoldberg.com/.