Academic Scholar Friar Reflects on Research, Promotion of Sciences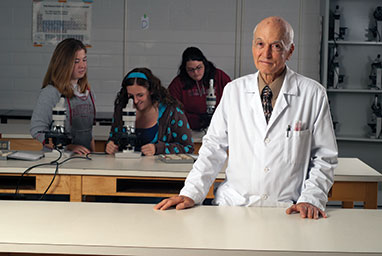 Robert Friar, professor of Biology at Ferris State University since 1967, teaches courses in human physiology and anatomy, as well as human sexuality — a subject on which he has been quoted as an expert by Time, Newsweek, Playboy and many other publications. His annual presentation, "Sex and the College Student," draws hundreds of students every year. He presents at professional conferences and has been filmed several times for videos by the Discovery Channel and by television crews from Canada, South Korea and El Salvador.
"I love teaching. It is a real thrill for me when I see a student's face light up when she or he finally masters a difficult concept. I love being able to motivate students to do their best," he said. "There are so many things today that didn't exist 30 years ago — the Internet, video games, mobile phones and texting — to distract students from their No. 1 purpose of being in college, which is to study and learn."
Friar feels a strong obligation to help students who need financial assistance.
"When I was in college, I worked 40-plus hours a week milking cows at the Purdue University Dairy Farm. I had to be at the dairy barn at 2 a.m. every morning to milk 120 cows before I went to my 8 o'clock classes. I carried a full academic load; there was no time for partying — which probably was to my advantage. I paid all of my college expenses each semester except my tuition, which was covered by a $76 scholarship that was donated by Purdue University alumni, faculty and others. There has been a lot of inflation since the 1950s, and today tuition is much higher. I deeply appreciated the help I received, and now it is my turn to help others by providing scholarships for Ferris students who are in need of financial assistance.
"When my wife, Fran, died 11 years ago, our three children told me they had been putting money into a fund to start an endowed scholarship when I retired, and they suggested any memorial donations for their mother go to this fund. After the funeral, we decided to put Fran's retirement account into two scholarship endowments to provide two scholarships each year — one for a Biology student and one for a Nursing student. My children and I are very pleased with this decision. We have been funding other annual scholarships — seven this year — in addition to the endowed scholarships."
Friar quotes Martin Luther King, who said, "Life's most persistent and urgent question is 'What are you doing for others?'" and adds, "For me, it is important and of great satisfaction when I see a student who is struggling financially and we can do something to help. I could not have given this much 30 years ago, when we had a mortgage and children in college, but today I can help. I believe all of us who can help others — by donating for scholarships or via other means — should do so. It's an obligation and a privilege to help our students, and it can and does make a difference for them."
For information on scholarship opportunities, call The Ferris Foundation at (231) 591-2365 or email fsufdn@ferris.edu.


This story was originally published in the Fall 2012 issue of Ferris Magazine: http://www.ferris.edu/HTMLS/alumni/ferrismagazine/