Student Graffiti Art Exhibit up in Rankin Art Gallery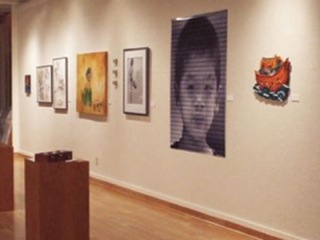 The Ferris State University Rankin Student Center Art Gallery is showcasing creative student work in its "Graffiti Art on the Quad" that began on Monday, Oct. 3 and runs through Saturday, Oct. 22.
Featured art in the Graffiti Art on the Quad exhibit was created by Ferris students during Welcome Week in the classrooms of Humanities professors Lynette Vought, George Nagel and Carrie Weis, who also serves as Rankin Art Gallery director. The gallery provided materials to students who created more than 100 panels that will be displayed on the walls of the gallery during the month of October.
A public reception is scheduled for Thursday, Oct. 6 from 5 to 7 p.m. in the gallery.
The exhibit is free and open to the public. The gallery hours are 11 a.m. to 6 p.m., Monday through Friday, and 11 a.m. to 3 p.m. on Saturday. For more information, contact Carrie Weis at (231) 591-2536 or by email at weisc@ferris.edu.
Visit the Rankin Art Gallery website, here: http://www.ferris.edu/gallery/