Welding Engineering Technology Enjoyed Record Spring Enrollment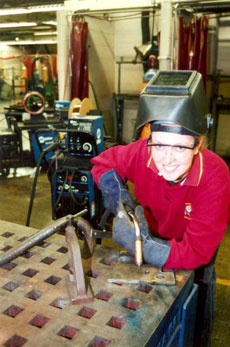 Ferris State University's Welding Engineering Technology program reached a record high total of 187 students enrolled this spring.
The number of Welding Engineering Technology students has increased steadily since the 2003-2004 academic year, according to Ken Kuk, a program professor. The Spring 2011 record total represents an increase of 45 percent.
Ferris' Welding Engineering Technology was established 1984 and is one of just five of its kind in the United States. Kuk said that the increase in the number of students enrolled in the program can be traced back to a Ferris curriculum specifically tailored to produce industry-ready graduates.
"We tend to monitor our program closely and make small adjustments to the curriculum to meet the needs of the economy and industries," Kuk said.
Kuk added that the program's five full-time faculty members work collaboratively through activities such as a statewide welding contest, being active in the professional society and through regular meetings with employers interested in recruiting Ferris graduates.
Program graduates are placed nationally and globally. There are currently Welding Engineering Technology alumni in 40 different states and nine different countries. This year, the program has placed 100 percent of its students in internships and 22 of 26 graduating seniors in related welding positions.
"We care so much about it and the program is an extension of our personalities," Kuk said. "We put all we have into it."
For more information about the Welding Engineering Technology program contact Jeff Carney, associate professor and program coordinator, at carneyj@ferris.edu.
To check out the program's website, visit, here.
02 May, 2011