History Instructor Busch Serving on Journal Editorial Board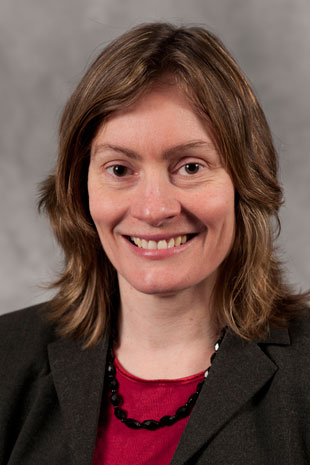 Ferris State University Assistant Professor of History Tracy Busch is an active member of the international editorial board of the peer-reviewed 2011 journal, Transfers: Interdisciplinary Journal of Mobility.
The newly-released journal provides research on the structures and consequences of the movement of people, resources and commodities. Busch said that she was asked to serve on the board during the Spring 2011 Semester. From a professional standpoint, she viewed this service as an opportunity that was perfectly suited for her background, interests and talents.
"I like innovative thinking. It's my background, and interdisciplinary has always been strongly encouraged," Busch said. "I'm interested in everything to combine all of my various interests. This is a chance for me to expand myself and maybe conduct some groundbreaking research in the field. As a scholar, this is something I should be doing."
Busch is one of the journal's 23 editorial board members. As part of her board service, she assists in book reviews, article reviews and solicits articles for authors to write.  Busch loves to challenge peers to "Think in terms of mobility in human movement," and how that has impacted history.
"It is a real challenge to come up with pieces that are really innovative. It's a good challenge and it helps you raise your expectations for your field," said Busch, who earned a bachelor's degree from Vassar College, in Poughkeepsie, N.Y., and a Ph.D. from Georgetown University, in Washington, D.C. "I find it intellectually interesting and I'm always trying to push the envelope. That doesn't mean I always succeed. A part of reaching is that sometimes you will fall."
While Busch continues to develop skills in her professional career, she also loves helping students with their own research and articles. She noted that students typically are more open to concepts and have a broad range of ideas.
"I like reading what young scholars are writing," she said. "I like to encourage them as they are just starting their academic career."
Busch also brings her work and appreciation for journals into the classroom as she encourages students to use research from scholarly journals, like Transfers.
This past summer, Busch had her article, "The Russian Review," published in the journal. The article discussed mobility history in the early society union of automobiles. She remains an active board member as she balances book reviews and teaching four Ferris History courses.
To learn more about the journal visit:
http://journals.berghahnbooks.com/trans/
To learn more about Tracy Busch visit:  http://www.ferris.edu/HTMLS/colleges/artsands/humanities/hist/tracyn-busch.htm