Hill to Serve as Keynote Speaker for 2011 MLK Celebration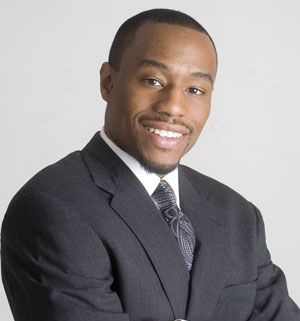 Leadership will be a major part of the message of Marc Lamont Hill as he visits Ferris State University as part of the 2011 Martin Luther King Jr. Celebration.
Hill will deliver an address entitled "Building Community In An Hour of Chaos: Progress In the Age of Obama" as he speaks to students, faculty, staff and community members in the Dome Room of the Rankin Student Center at 7 p.m. on Tuesday Jan. 18. This event is free and open to the public. Frequently featured in Essence, Washington Post, The New York Times, National Public Radio, CNN, MSNBC and Fox News, Hill is a nationally-known commentator on issues related to culture and politics.
"Dr. Hill will highlight leadership in the era of Dr. King and also discuss how leadership is needed right now for our country to get to the next level," said Michael Wade, assistant director of Ferris' Office of Multicultural Student Services and co-chair of the MLK Celebration Planning Committee.
Hill is known for his thoughtful perspectives on everything from sexuality to education to religion. Through his commentary and writing, Hill's expertise has been at the forefront of the country's changing paradigms on diversity, hip-hop culture and the younger generation. In 2009, he joined the faculty of Columbia University as associate professor of Education at Teachers College. He also holds an affiliated faculty appointment in African American Studies at the Institute for Research in African American Studies at Columbia. Trained as an anthropologist of education, Hill earned his a Ph.D. from the University of Pennsylvania.
In 2005, Ebony Magazine named him one of America's top 30 black leaders under 30 years old. A key component of Hill's emergence has been due largely to his passions for activism and leadership.
"As an activist, I am deeply concerned and saddened even by the state of affairs with activism. There is all this possibility," Hill said during an interview with the Atlanta Post. "We have these forms of social media and social networking like Facebook, Twitter and YouTube that get used for all sorts of social purposes, but not for the purposes of advancing our struggles. So, it's like we have a tank full of gas, but we're not going anywhere."
Hill is the author of Beats, Rhymes, and Classroom Life: Hip-Hop Pedagogy, and the Politics of Identity and the co-editor of Media, Learning, and Sites of Possibility and The Anthropology of Education Reader. Currently, Hill is working on completing two manuscripts: Knowledge of Self: Race, Masculinity, and the Politics of Reading; and You Ain't Heard It From Me: Snitching, Rumors and Other People's Business in Hip-Hop America.
Sponsors for the event include OMSS, 2011 MLK Celebration Planning Committee, Entertainment Unlimited, Political Engagement Project, Office of Equal Opportunity and Governmental Relations and General Counsel, Vice President of Administration and Finance, Vice President of University Advancement and Marketing, College of Arts and Sciences, College of Allied Health Sciences, College of Education and Human Services, College of Engineering Technology, College of Business, Student Government, Office of the President, College of Pharmacy, University College, Michigan College of Optometry, and the College of Professional and Technological Studies.
For more information on Hill, please visit his website: http://www.marclamonthill.com.
21 December, 2010