Ferris Receives Donation from Hino Trucks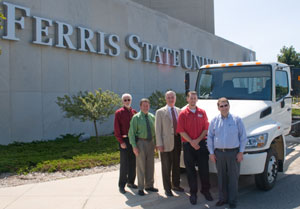 BIG RAPIDS – Hino Trucks, a division of Toyota, donated a new medium-duty truck to the School of Automotive and Heavy Equipment at Ferris State University. The truck, one of six donated throughout the country and the only one in Michigan, will be used by students in all five programs in the school, said Mike Ropele, associate professor of Automotive Management.
Alumnus Chris Russell (Automotive Management '02), Hino sales support coordinator, is the catalyst behind the donation. Russell credits Ferris' educational mix of hands-on technology and management training as the reason for his career success. He is pleased to be able to give back and provide opportunities for current and future students to advance their learning in the classroom.
"Hino is the number one growing truck in the medium-duty market and is great for the students to learn with," Russell said. "Hino Trucks was glad to donate the truck to such a successful university and program."
Added Ropele, "This donation allows us to continue to provide a state-of-the-art learning environment for our students."
College of Engineering Technology Dean Tom Oldfield said the success of Ferris' career-oriented programming can be seen through graduates such as Russell. "We're grateful for the continued support of our alumni once they've entered the workplace."
For more information or to make a gift to the university, please contact The Ferris Foundation at (231) 591-2365 or fsufdn@ferris.edu. Details about establishing scholarships or endowments may be obtained from the Advancement Office at (231) 591-3825.
20 November, 2009