Ferris Announces Appointment of New Dean for Michigan College of Optometry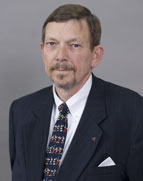 BIG RAPIDS – Ferris State University officials announced today (Aug. 12) that Dr. Michael Cron has accepted the position of dean of the Michigan College of Optometry. He will begin his new position Aug. 24. Cron brings 33 years of Michigan College of Optometry experience to the position. This experience includes chief of Pediatric Optometry Services, interim director of the Campus Clinic, and professor and associate dean.
Cron earned his optometry doctorate from the Illinois College of Optometry. He continues to be involved in post-graduate seminars and courses including an M.S. in Clinical Research Design and Statistical Analysis from The University of Michigan, School of Public Health. Cron began his career in private practice establishing and managing a practice in Spring Lake, Mich. He joined Ferris as a clinical associate in the fall of 1977.
In addition to his campus experience, Cron has been active on the state and national level having continued his involvement with the American Optometric Association, Michigan Optometric Association, West Michigan Optometric Association, American Optometric Foundation and the American Optometric Student Association. He has more than 35 publications, including three book chapters and one manual, on topics including pediatric visual acuity, visual information processing, child development, and current literature relevant to developmental and behavioral optometry.
"The appointment of Cron follows the extraordinary involvement of the MCO faculty, staff and students, along with the excellent work of the search committee chaired by Dr. Roger Kamen. Ferris looks forward to continued growth of the Michigan College of Optometry and the realization of the new optometry building," said Provost and Vice President for Academic Affairs Fritz Erickson.
10 August, 2009