Rankin Art Gallery features artist B.B. Winslow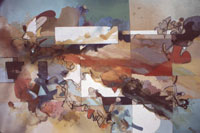 BIG RAPIDS - Ferris State University's Rankin Art Gallery is featuring the work of artist Bruce B. Winslow Sept. 4 through 26. A reception to welcome Winslow and his work will be at 7 p.m. on Sept. 6 in the gallery.
The first exhibit of the gallery's 2007-08 season, Winslow said he is inspired by art and music because they are both vehicles for originality, creative productivity and poetic communication. His process of creating artwork involves pouring of pigment, solvents and varnishes, which creates imagery similar to rivers and liquid forms. This gives an aquatic sense to the atmosphere in his works, he added.
According to Winslow, paintings are vehicles for poetry of biblical, mythological, historical, philosophical or musical references. From everyday encounters, conversations, books, dreams, music and the media, Winslow collects lists of words, phrases and quotations. These collections are his idea indexes from which he selects titles for his paintings, drawings, sculptures and songs.
A 1980 Central Michigan University graduate, Winslow also received his Master of Fine Arts in 1988 from Pratt Institute in Brooklyn, N.Y., with a major in painting and minor in art history. He is also currently a teacher at Midland's Center for the Arts, teaching studio school, painting, drawing, design, professional practices and art history. Since 1978, Winslow has had his artwork displayed in more than 85 exhibitions in Michigan, New York and Florida.
Further information about the exhibit or gallery is available by contacting Coordinator Carrie Weis at (231) 591-2536 or weisc@ferris.edu. Gallery hours are 11 a.m. to 4 p.m. Monday through Friday.
29 August, 2007