Student Government Calls for Volunteers for The Big Event, Deadline Extended

Student Government is calling for volunteers to help with this year's Big Event on Saturday, April 18. This year, Student Government is looking to reach 2,000 volunteers from the university community. more...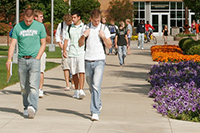 DPS Reminds University Community about Pedestrian Safety

Ferris State University's Department of Public Safety is offering tips to help better ensure pedestrian. more...

News Headlines
» This Week at Ferris (March 30-April 4)
» Ferris First (#Ferr1s): Mike Lewis
» CLACS to Host 'Rock Star' Leadership Conference on April 11
» Granddaughter of Mathias J. Alten Funds Award for KCAD Students
» Theatre to Perform Student Showcase 'Love, Life & Death'
» Alumnus Named President of Northland Community and Technical College
» Student Government Announces 2015-16 Presidential Candidates
» Consulting Firm to Conduct Ferris Diversity Audit
» Alumnus Gamble Named VP, CFO of Karmanos Cancer Institute
» Toyota Executive Changes Include New Appointment for Alumna Hamp
» Read More Ferris State University News Headlines