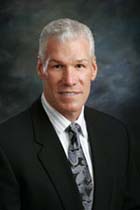 Appointed March 8, 2001 by Governor John Engler; his term expired Dec. 31, 2008. Reappointed January 25, 2011 by Governor Rick Snyder.
Gary L. Granger, P.E., is the founder, owner, and president of Granger Group, a national real estate brand development company that provides investment, financing, development, design/build, asset management, and property management services. He has 34 years of dynamic leadership experience in all phases of the development process. He demands quality, value, and the highest possible returns for investors on every project he is involved in.
Prior to founding Granger Group, he began his career in business with his family's construction company, where he eventually served as its president for five years. The company grew significantly during his tenure there. In 1997, he established Granger Group to pursue his vision of achieving an extraordinary level of excellence in delivering the built environment. In its first 13 years, Granger Group has established many essential business and community partnerships. These relationships have led to approximately $1 billion worth of successful developments in Michigan and throughout the United States, firmly establishing Granger Group as an innovative industry leader.
His parents, Alton and Janice Granger of Lansing, are 2004 Ferris honorary doctorate degree recipients and benefactors of Ferris' Granger Center for Construction and Heating, Ventilation, Air Conditioning and Refrigeration. His son, Jason, of Grandville, is a 2004 graduate of Ferris' College of Business and served as Student Government president.
Granger earned a bachelor's degree in architectural engineering from the University of Colorado and is a 1992 graduate of the Harvard Business School's Owner/President Program. In addition to his previous service as a trustee, he was a member of Ferris' 2006 Commission for the Future and has remained active in the University. His community outreach includes service on the Michigan Chamber of Commerce Board of Directors and the Van Andel Institute Board of Governors, among others.
He resides in Byron Center and will serve a term expiring Dec. 31, 2018, filling the seat previously held by James K. Haveman.